Cooking & Baking holidays in France
Enjoy a holiday with a difference near Bordeaux, in south west France.
Join one of our cooking courses or patisserie courses in France with a real French cook, for an authentic experience!
We offer the only cooking course where you can make every single dish from scratch. No Demonstration watching. Just hands on preparing pastries, desserts, de-boning meat & poultry, filleting fish, sauce making, vegetable and sides prepping and the final cooking / baking and plating of every single one of your dishes.
No demonstration watching - Everyone makes their own
About Le Gargantua Cooking School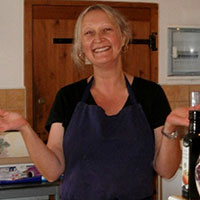 Our hands-on cooking classes and patisserie classes are designed around you and your specific levels and wishes. It's not just about learning or following traditional french recipes to the dot but by explaining the interaction of ingredients within each dish.
We cover all kinds of traditional French dishes and techniques on our seasonal cooking courses, from bread to pâtés, mousses, quiches, stews and sauces. You can also choose to learn to make classic French pastry like eclairs, macarons, millefeuilles or croissants, on our patisserie courses, and we even offer to show you the ropes on how to prepare foie gras, confit and rillettes on our fat duck course.
French-born Marlene welcomes you in the heart of the Gascony countryside, for a fully hands-on cooking course in English.
I moved to this beautiful part of France in 2004, leaving the grey skies of North of France behind me, and after 3 years of renovation, transformed the derelict house into a lovely home, guesthouse and cooking school: "Le Gargantua". Two daughters, two dogs and one cat later, I invite you to share not only my home, but also a "slice" of my life amongst my family.
I was born and raised in Calais, where I was a wine buyer. I have always been a food lover, whether it involved making it or eating it. Cooking is my passion and I love to share it! I am on a mission to demystify French cuisine.